1925 Viroqua for Call of Cthulhu: Nosy People
Fred's Game will now be on Thursday night, 6:30 PM.
Game ON for Dec 2nd 2010.
Brush off the old high level D&D character sheets. Lets get them up to data so we can get that game going on soon too. -RL
The Players:
John Graske, Retired PI
Dack Carroll, Pharmacist/Chemist
Andy Backes, Mechanic
Le Laiacona, Telephone Operator
Phil Islo, Veterinarian
Rich Laiacona, Newspaper Reporter
Fred, Story Teller
Weather file; http://www.crh.noaa.gov/crh/ssd/pdf/tsp-11.pdf
I was wrong, the cold was for Feb., not Sept. Run with it Fred…
(It's OK Rich. I got weather from here! Still 12 F on Sept 10 1925 in game)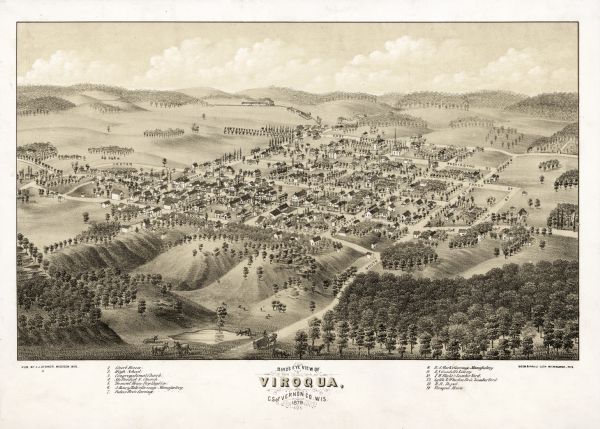 http://www.historicmapworks.com/Map/US/36883/Viroqua/Vernon+County+1931/Wisconsin/
Summary of Feb 18th Game
A human nose was found in a farmers field on a record breaking cold day for September.
After an independent search was conducted in the surrounding woods, a body was found.
The body was butchered and displayed on a large rock, as if it were a butcher's shop.
Unknown foot prints were found at the scene but no other evidence leads to any clue as to who done it.
The corpse was too abused for any identification.
An official Sheriff's Report is forthcoming, according to Vernon Co. Sheriff Gene Dell.
Realtime Entry 3/3/2010:
Hi Everyone and welcome to our game's Wikidot home. I'll be updating and adding bits and snippets on town and characters therein, and hopefully you can contribute to the in character side of things. Rich should be able to let you get editor status.
Known Loons of Viroqua:
Gunnar Jannsen and family : Gunnar, Lisa and daughters Ursula and Gretchen raise goats on a farm on the edge of town. Quiet, reasonable people, everyone avoids them because it is common knowledge, professed by the whole family that they are indeed ATHEISTS! GODLESS ATHEISTS! They are resourceful, hardworking and largely financially independent.
Shelly Dorfmann : She came into town a skinny wreck about 6 years ago and no-one can make her leave and not come back. Talks to the air, can't care for herself. Semi-adopted by the First Lutheran Church, she harbors there in the cold and walks street, field and road with equal lack of attention to her surroundings. Long stringy brown hair over layers of dirty clothing and oversized men's shoes pretty much sums it up.
Ned Bates : Folks mention Ned and eyes are downcast and mutters of shame and sorrow about the whole affair are usually expressed. Ned's dad owns the feed store, and when Ned volunteered for the war, he went in as a Marine. He came back a shattered shell of a boy that never became a man. He was honorably discharged with "extreme shell-shock", and was given prescriptions and instructions to stay away from noisy machinery, flashing lights and "chaotic environments". Ned has had a VERY hard time of it in Viroqua after the war. Bates' Feed is the staff of the dairy cattle of Vernon County, so Ned's father Drew and mom Andrea aren't hurting financially, but they suffer unmercifully every day. Ned sometimes comes out into town at night after all the trucks are gone. No one has ever seen him commit an act of violence or commit a crime since his return, so he is afforded the respect of a wounded vet, though one who has a hard time understanding the honor.
Harold Hellman : Brother of Herman Hellman, 20 year sheriff's deputy of Vernon Co.; Harold was "born daft". His doctor and parents all knew there was a problem with Harold's cognitive abilities early on. He's a dreamer, seer of things not there and capable of describing his dreams in a greater detail than ANYONE, his doctor included, could ever remember hearing. Attending school was out of the question of course, but he has spent considerable time with books and in the Carnegie Library as a haven. Gentle, overweight and dressed in only the finest church bin overcoats and sweater/slacks combinations, he wanders around the town unobtrusively but distinctly askew from the rest of society around him. The whole town knows if Harold were ever perceived as a threat Herman would have him picked up for his OWN safety right away.
Vella Krank "The Chicken Lady": Vella sells eggs to both first National and Hellsknecht's grocers, and sells chickens at her farm. She comes to town often, unfortunately. She's in her fifties, with grey hair in unflattering styles from two decades ago and gingham dresses with a heavy peacoat, stained badly, and worn down flare heeled high buttoned boots. Never found in town without the company of one of her flock in her arm except while driving or un/loading the battered Ford truck, she coos and talks to them in front of others, seeming to listen and judge their reactions before talking to the people again. There's a rotating cast of roosters week to week. She shifts favorites. She also smells. She is loud, sqauwky, of uneven skin tone shading into red to white, skinny and cheap. NEVER tips. Anywhere. Also insists on bringing the bird into Carlson's Diner.
Important Locations in Town
sorry no addresses yet. Not sure I want to get to THAT level of detail.
Teachers' College
Tobacco Co-op Building
Butt House
Glick's General Store
John Deere Dealership
Vernon County Broadcaster newspaper office
Great Western Sawmill and Lumber Inc. (out of town on State Rd)
Nillson's Fine Meats
Hellsknecht's Grocery
First National Food Store
Sanders Publishing
Paulsen's Fuel and Mechanical Shop
Milk Co-Op Bottling Plant
The Barrel (speakeasy)
Mrs. Thorvalsen's Boardinghouse
One Room Schoolhouse (for real in 1925!)
Movie Theater (name here SOON)
WRGV radio 710
Grange Hall and Farmer's Exchange
Vernon County Sheriff's Office
Vernon County Courthouse and Hall of Records
Carnegie Library
Majestic Pharmacy and Luncheonette
Carlson's Diner and Ice Cream (across from the courthouse, they make a DAMN fine cup of coffee)
Eight O'Clock Supper Club restaurant.
page revision: 33, last edited: 14 Feb 2012 20:21